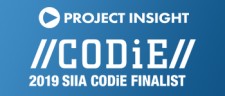 Project Insight recognized as finalist for prestigious industry award
IRVINE, Calif., May 2, 2019 (Newswire.com) - Project Insight® (PI®), a leading work management solution, is excited to announce their nomination as a finalist in the 2019 SIIA CODiE Awards in the category of Best Project Management Software. Finalists represent the best products, technologies, and services in software, information and business technology.
As a leader in innovation, Project Insight has been recognized for transforming the way work is managed. PI makes it effortless for companies to streamline their business processes and connect their enterprise in one solution. They recently expanded their project management software to a work management platform that leverages work automation and data aggregation, helping executives and project managers translate project data across their organization into real dollars and sense.
Project Insight is pioneering the "Work Where You're At™" movement by aggregating data from other key applications like Jira, Zendesk, DevOps, QuickBooks and other high-productivity tools. "As a business user, I could see how easy it was for me to hook to Jira. A matter of clicks," said PI's SIIA CODiE judge.
Project Insight is the first platform in the industry designed to grow with teams at every stage of business. PI offers free project management software (PI#team™) all the way up to customized work management solutions with key workflows and complex integrations.
The SIIA CODiE Awards are the premier awards for the software and information industries and have been recognizing product excellence for over 30 years. The awards offer 76 categories that are organized by industry focus of education technology and business technology. Project Insight was honored as one of 137 finalists across the 44 business technology categories. Winners will be announced during the Business Technology & Company CODiE Award Winner Announcement Party immediately following TechConText, June 12 in San Francisco.
Details about each finalist are listed at http://www.siia.net/codie/2019-Finalists.
###
About the SIIA CODiE™ Awards
The SIIA CODiE Awards is the only peer-reviewed program to showcase business and education technology's finest products and services. Since 1986, thousands of products, services and solutions have been recognized for achieving excellence. For more information, visit siia.net/CODiE.
Project Insight® (PI®) is the work management software making your job easier. Leverage the power of automation and data aggregation to improve your business process.
Whether you run an enterprise-wide PMO, a small business, or want to get better organized, Project Insight has a solution. From project automation to full-service consulting, PI is transforming the way work is managed.
Source: Project Insight®
Share: