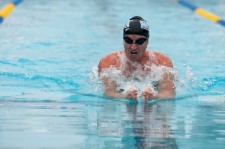 IRVINE, Calif., June 28, 2018 (Newswire.com) - Steve West, CEO of Project Insight (PI®) and competitive swimmer, posted his newest record while competing at the Fran Crippen Memorial Swim Meet of Champions Friday.
Representing Irvine Novaquatics, West managed to beat his own master's world record as well as the national record at 2:19:44. This is now the second time he has managed to break the 200 breast masters world record in the age group of 45-49.
The previous record for the 200 breast masters world record was 2:22:26, set at the 2017 Speedo Grand Challenge in Irvine which West has lowered by more than three and a half seconds. His record time earned him a spot in the Swim Meet of Champions Finals.
As a world-class swimmer for over thirty years, West has won several competitive awards and has been named one of "Swimming World's" World Masters Swimmers of the Year. In 2012, he was the oldest male to qualify for the Olympic Trials at the age of 39.
His passion, dedication, and innovative persona manifests in every aspect of his life. Steve has been the CEO of PI, a project management platform, since 2002. For over 15 years, he has been at the forefront of elevating project managers' capabilities through the use of automation. In 2017, he co-developed VirtualPM™, a patent-pending artificial intelligence bot used to capture essential information, create efficiency and engagement within a company. From this, PI® was named Best Project Management Solution by SIIA in 2017.
West embodies a balanced, "work hard, play hard" attitude and lifestyle. When he's not competing, you can find him bringing his strategic visions to life at PI's headquarters in Irvine, surfing, or spending time with his family.
About Project Insight 
Project Insight is a project management software company devoted to helping teams Work Better Together™ for over 15 years. As an industry leader, PI® specializes in developing web-based project management software for teams of all sizes. Project Insight is used by industry leaders worldwide including, IT, professional services and product development. Project Insight is offered in both cloud and on-premise editions and is compliant with the PMBOK® Guide. To learn more, visit www.projectinsight.com or follow us on all social media platforms @ProjectInsight. (Facebook, Twitter, Instagram, etc.)
Contact:
Alexa Ortega-Mendoza | alexa.ortega-mendoza@projectinsight.com | +1 (949) 476-6499
Source: Project Insight
Share: