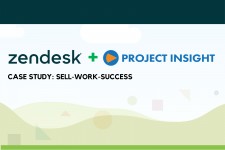 COSTA MESA, Calif., October 10, 2019 (Newswire.com) - Project Insight® today announced its integration with Zendesk, Inc.'s Duet, a combined offering of Zendesk Sell and Support. Project Insight provides key SELL-WORK-BILL™ processes that unify sales orders, support tickets, tasks and invoices in one application.
"Both Zendesk and PI are committed to an omnichannel approach to let people work where they're at," said Kevin Perkins, Director at Project Insight. "We're already seeing up to 25 hours saved per deal when transitioning a sale to work and up to a 4x faster response rate when supporting customers who need something fixed."
"We're excited to work with Project Insight because they provide key integrations that help Zendesk organizations build better relationships with their customers," said Jakub Glodek, Principal Consultant at Zendesk Sell.
About Project Insight
Project Insight is the leading work management software that automates your work, unifies your data, and makes your life easier. Companies using Project Insight can leverage their existing software investments, and gain the needed insights to move their business forward. Sign up for a free PI#team at https://projectinsight.com/team or install directly from the Zendesk Marketplace.
Source: Project Insight®
Share: