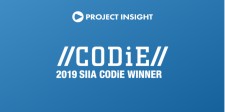 PI#enterprise™ Earns Prestigious Industry Recognition
IRVINE, Calif., June 13, 2019 (Newswire.com) - ​Project Insight® (PI®), a leading work management solution, has been awarded the Best Project Management Solution of 2019 accolade as part of the annual SIIA CODiE Awards. Companies leading the software and information technology industries are recognized by The Software & Information Industry Association (SIIA) for their product excellence and innovation.
"This is more validation that our vision and plans are right on," said PI CEO, Steve West. "Making your life easier by aggregating and automating all your work in a central platform. This is the future of work."
As a leader in innovation, Project Insight has been recognized for transforming the way work is managed. PI makes it effortless for companies to streamline their business processes and connect their enterprise in one solution. This is the second time in three years that PI has been awarded Best Project Management Solution.
"The CODiE Awards have long recognized the most innovative high-impact products in the market, and the 2019 winners continue this grand tradition," said Jeff Joseph, SIIA President. "We are thrilled to spotlight these exciting products and the power they have to revolutionize how we do business. Congratulations to all our honorees."
The Software & Information Industry Association (SIIA), the principal trade association for the software and digital content industries, announced the full slate of CODiE winners during a special Award Ceremony in San Francisco on June 12.
The SIIA CODiE Awards are the industry's only peer-reviewed awards program. The first-round review of all nominees is conducted by software and business technology experts with considerable industry expertise, including members of the industry, analysts, media, bloggers, bankers and investors. The scores from the expert judge review determine the finalists. SIIA members then vote on the finalist products, and the scores from both rounds are tabulated to select the winners. Forty-four awards were given this year for products and services deployed specifically for B2B software, information and media companies, including the all-new Best Overall Business Technology Product, awarded to the product with the highest scores of both rounds of judging. Ten awards were given as part of the Company CODiE Awards, which recognize outstanding individuals, companies and teams.
More information about the Awards is available at: siia.net/CODiE.
Details about the winning products can be found at http://www.siia.net/codie/2019-Winners
About the SIIA CODiE™ Awards
The SIIA CODiE Awards is the only peer-reviewed program to showcase business and education technology's finest products and services. Since 1986, thousands of products, services and solutions have been recognized for achieving excellence. For more information, visit siia.net/CODiE.
About Project Insight
Project Insight (PI®) is the work management software making your job easier. Leverage the power of automation and data aggregation to improve your business process.
Whether you run an enterprise-wide PMO, a small business or want to get better organized, Project Insight has a solution. From project automation to full-service consulting, PI is transforming the way work is managed.
Source: Project Insight
Share: