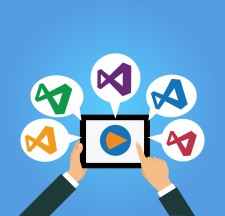 Irvine, CA, February 22, 2017 (Newswire.com) - Leading project management software developer Project Insight (www.projectinsight.net) announced today that it is fully integrated with Microsoft Visual Studio Teams Services. The integration simplifies the PMO process while providing valuable insights into development team costing, resource allocation, and intelligent scheduling.
The PI® Integration for Visual Studio Teams Services aggregates engineering progress from multiple software projects in a way that developers never need to leave the development environment. Meanwhile, Project Managers and Executives receive the important business metrics to make valuable decisions.
"Our integration allows development teams to live in Visual Studio Teams Services and have their work time entries go to PI automatically. The Executives then see everything that's going on in the enterprise. PI truly becomes the hub for all activity, including non-software projects," said Project Insight CEO Steve West.
Integration Features:
· Link to Visual Studio Team Services via PI's extensive API
· Populate PI tasks from Visual Studio Team Services Epics, Features, Stories, and Tasks
· Sync time entries from Visual Studio Team Services using PI's powerful rate card feature
· Automatically sync Visual Studio Team Services users to PI via email address
Project Insight also recently announced its PI® Integration for JIRA and will be rolling out more connectors in the coming weeks. Companies interested in aggregating development information should contact Project Insight to receive a demonstration.
Learn more about PI® Integrations!
About Project Insight
Project Insight is project and portfolio management software focused on helping mid-market companies and medium sized organizations centralize projects, balance resources, collaborate on project assets, enter time/expenses, track budgets and view real-time reports. Project Insight is used by IT, professional services, product development and advertising teams worldwide. Project Insight is offered in both cloud and on premise editions and is compliant with the PMBOK® Guide. To learn more, visit www.projectinsight.net or follow us on Twitter @ProjectInsight using #projectmanagementsoftware.
###
Contact:
Denise Rodriguez, Marketing Communications
Denise.rodriguez@projectinsight.com
+1 (949) 476-6499
Source: Project Insight
Share: